Gift Set
Regular price
$54.95 CAD
Sale price
$54.95 CAD
Unit price
per
Gift Set of 6


▪ 2 fast-absorbing creams
▪ 4 long-lasting butters
▪ protect, relieve & soothe super dry skin
▪ healthy nutrients to feed all skin types
▪ reduces the look of age spots, mature, & acne prone skin
▪ use daily to get healthy, glowing skin!



A million ways to use body butters & creams...
A million ways to love yourself.

With great power comes great responsibility.

There are many ways to use body butters and creams effectively, but there is also a wrong time and place to use it as well. For butter, it's touching a freshly, cleaned mirror... rolling in a silky bed sheet... or putting on a sticky bra right after you slather on some body butter (ladies, you know what I'm talking about). For creams, it's... putting it in your mouth.

It's okay, we all live and learn.

More than just a Butterface, Butterface is here to teach.

How to Use for Butter
Made from natural butters and essential oils, scoop out a small amount and rub it in between your hands to melt it. Once melted, you can easily rub it all over your body or on problematic areas (knees, elbows, hands, feet, etc.). A little goes a long way. You can also rub it directly onto your skin.

How to Use for Cream
Made from a soothing blend of shea butter, tucuma butter, and coconut oil (orange oil for Mary-Jane!), our premium creams is a super hydrating moisturizer that will instantly absorb into the skin. Scoop out a small amount spread it all over your body in a circular motion. Feels luxurious and light.

Best Times to Use
anytime: use it daily and as many times as you please or whenever your skin is dry (there is no wrong time or place to use it when your skin really needs it) 
right after a shower or bath: our butters contain natural oils and no water, therefore it is best used by creating a protective barrier to trap in moisture. Our creams contains natural oils and water and will work best when your skin is hydrated
at night: your skin is in repair mode where your skin's blood flow increases and the organ rebuilds collagen and repairs damage from UV exposure---reducing wrinkles and age spots. Talk about beauty sleep!
cold seasons: because it is intensive and highly moisturizing, it is a great way to protect your skin from harsh climates (dry, cold, wet, windy)

Remember, it takes persistence so the more you use it over a long period of time... the more benefits you'll reap later! #silkysmoothskin



hot water: it can throw off the skin's pH level by stripping all of the oils that helps to protect healthy skin (wash with warm water instead)
drying your body: after a shower or bath, pat your body dry instead of rubbing and use a microfiber towel instead (friction can cause skin irritations and dryness)
massage: kill two birds with one stone by massaging you or your loved ones to release stress and tensions while letting the skin absorb all the extra benefits (your loved ones will thank you!)
use it: for makeup removal, on nails and cuticles, lips, and even in your hair!
citrus, lavender, and hyssop oils: also helps to repel annoying pests such as mosquitos! bzzzzzzz
perfume & cologne: make it last longer by putting on butter and then spraying on your favourite smell
protect from wind: slather on before you go outside when there's harsh wind or even before a bike ride (it really helps!)
What's Inside

30 ml each of:
Tangerine Tom, Avocado Avery, Strawberry Suzy, Lavender Lily, Plain Jane, and Mary-Jane


Share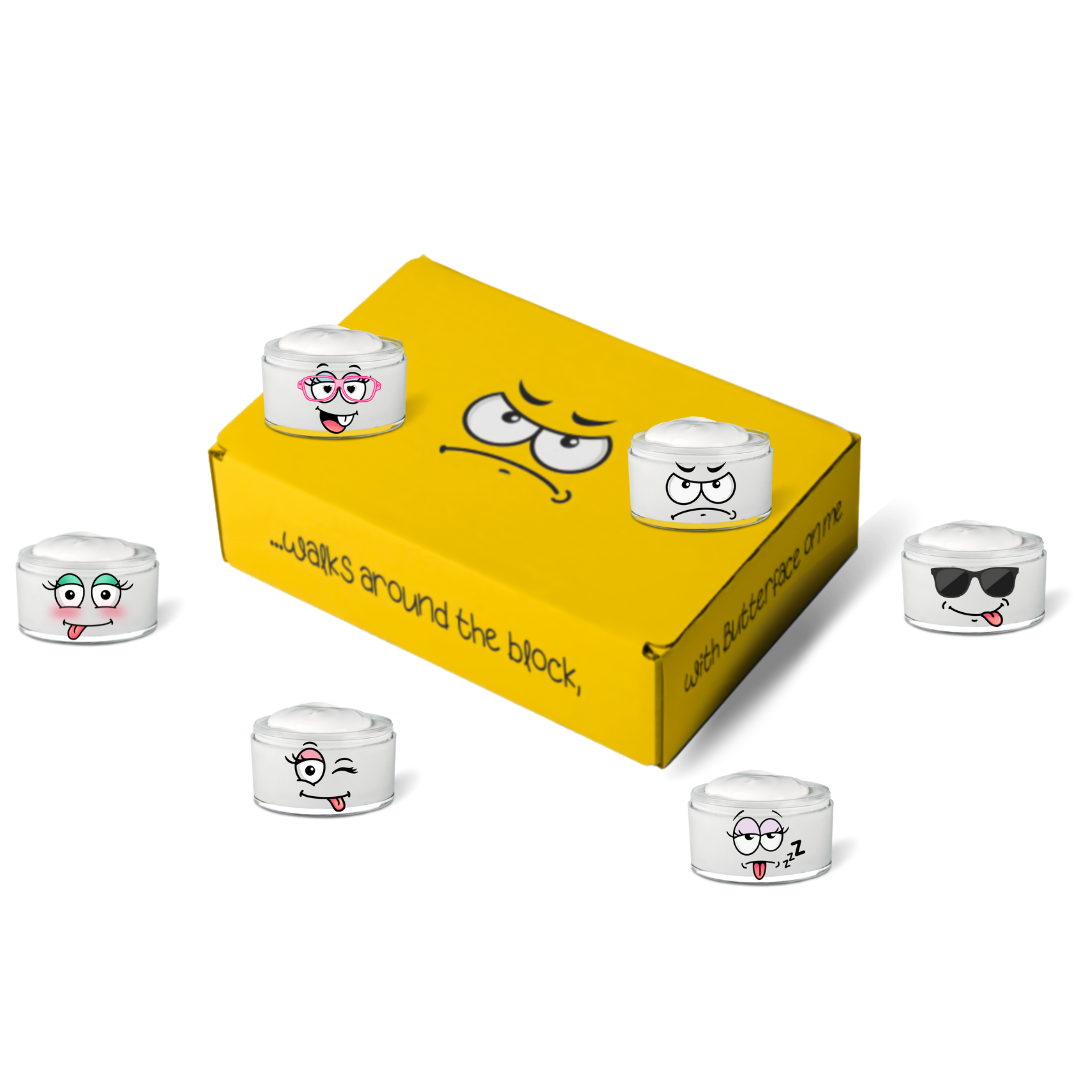 Love!!
I actually received this gift set as a gift and I absolutely loved it! I loved every jar but my favourite would be the lavender one! Definitely would recommend trying the gift set for yourself if you're unsure which jar to get! This is also a lovely gift set to give to someone!
MUST HAVE!!!
Really love that they offer this set, because I personally have never used butter before and I typically use just plain lotion. I have a really dry skin, like ashy and cracky lol. And recently developed sensitivity to bug bites, discovered the lavender soothes it. Also love using the plain butter because I enjoy its simplicity. Looking forward purchasing more set for friends and family. Everyone must have!!!
Thanks for spreading the word Kaz! We're pumped to hear that Lavender Lily is helping with the bug bites and hope the butters serve you well this winter :)
Lucky to receive this
I was skeptical at first since I've tried so many butters, then my friend gifted me a box for Christmas and I gave some to my sister and used it on my bf's random eczema patches, and WOW.
They work so well - my bf no longer itches his patch and leaves flakes around and it doesn't make my sister's hands sweat as she has hyperhidrosis and the brand names one didn't work for her. It's reassuring to know that all the ingredients are natural and that you're supporting a small business. I am tough to please so I don't leave many reviews but because I appreciate products that actually work I specifically made sure I came to leave one. These are great so I committed to 4 full-size containers :) You won't regret trying this. You can even find me on IG to know that a real person wrote this review. (ig; mimiimwah)
Thanks so much for the kind words Mimi! We're very glad that your sister and boyfriend have found something that helps them, and that we were able to meet (and exceed!) your expectations :)
Great Gift Set Idea
Can decide on which scent of butter to give/get as a gift? Why not try them all and decide later. It's neatly and securely packaged to prevent damage through shipping. Overall easy process from beginning to end. Very happy with the product!
amazing product
Amazing products.. I try to stay away from chemicals and preservatives found in regular cosmetics over the counter.. This butter cream is all I need to nourish my delicate skin..Congratulation guys ! You nail it !
Thank you Carmen :) We are very glad you are enjoying it and hope to continue spreading the message.